Free Traffic: Programs That Get Traffic To Your Site For Free
You will need an autoresponder to be successful with free traffic exchanges. When the surfer visits your squeeze page and requests more information then the messages should go out automatically. All successful marketers use an autoresponder. All the gurus say the "money is in the list". A "list" is simply a group of people who agree to receive more information from you via email.
Which one do I use? I prefer Traffic Wave because it has been online since 2001, is cheaper than the other autoresponders ($17.95/month), gives you unlimited autoresponder campaigns, has a very lucrative money making plan in place simply just for referring others, and is a product just about everyone who is on the internet needs or can use.
---

Ad Kreator - You must use a splash page and promote yourself when you use the free traffic exchanges. You can join Ad Kreator and create a free splash page. If you upgrade, you can make as many splash pages as you like. Remember the splash page is designed to catch a visitor's interest so they will request more information. An autoresponder and a splash page are your 2 most essential tools in the traffic exchanges and safelists.


Free Traffic Exchanges
There are hundreds of free traffic exchanges and it is impossible to join and use them all so how do you decide which ones to use? One thing to look for is an exchange that has a huge membership base so more eyes see the page you are promoting. Another thing to look for is an exchange that will pay you commissions for referrals who upgrade whether you are an upgrade member or not.
TE Command Post - is an excellent tool for managing and increasing your credits in 999 traffic exchanges. You can join at no cost but you get more benefits by upgrading. Since most traffic exchanges will pay you commissions on referral purchases, you can track all of the commissions due you from one source.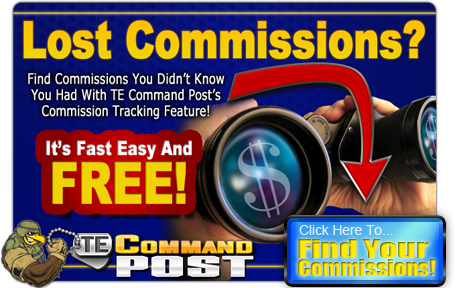 Traffic Era is one of two foundational programs used by TE Command Post. If you become a club member of Traffic Era, you are also upgraded in TE Command Post, Traffic Splash, Tezzers Traffic Power, Dragon Hits, and TS Syndicate. Traffic Era has a program that will promote your splash page in multiple traffic exchanges.

Traffic Splash is the other foundational program for TE Command Post. By surfing Traffic Era and Traffic Splash together, you will earn many more credits.

EasyHits4U - This free traffic exchange has the largest membership of all so this is a must join site. Perks of this site is you earn from referrals surfing and you also get a small amount of income from your own surfing. You also get commissions from referral purchases.

Hot Website Traffic - This traffic exchange shares its profits with its members, offers commissions on referral purchases, and gives out a lot of credit and cash prizes for active surfers. One of my favorite traffic sites.

Traffic Tornado This program lists just about every good traffic exchange there is. Traffic Tornado is a referral builder for the traffic exchanges you are a member of and will also get referrals for members of traffic exchanges that you are not a member of.



Trafficadbar.com is the ultimate FREE website traffic generator.

Hit to Hit This free traffic exchange is consistently rated one of the best performing traffic exchanges online by groups who rate the effectiveness of a traffic exchange. This one is a must join for quality visitors to your website.
An Unseenworld's Index Page